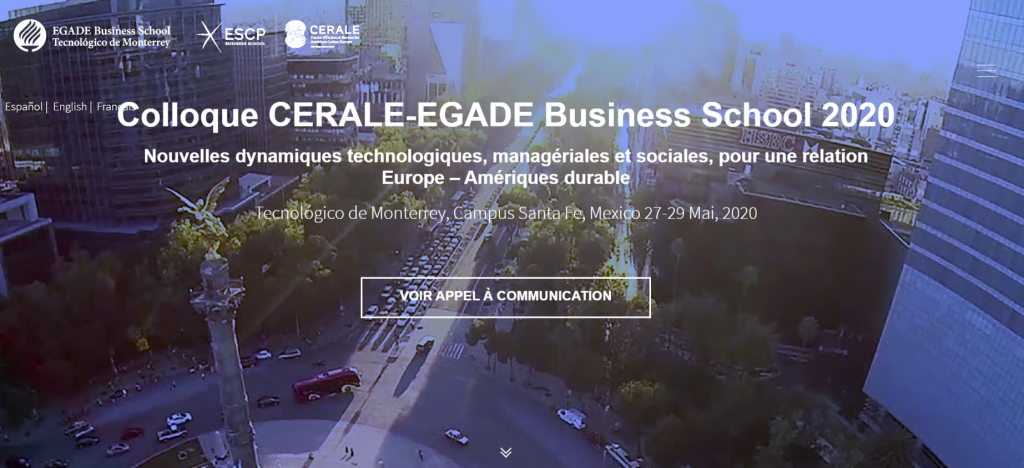 Después del Coloquio IdA-EULAC-CERALE 2016 en París y CERALE-UniAndes 2018 en Cartagena de Indias, nos complace anunciar el Coloquio CERALE-EGADE Business School 2020 en la Ciudad de México,  27 – 29 de mayo de 2020.
Bajo el lema «Nuevas dinámicas tecnológicas, empresariales y sociales para una relación sostenible entre las Américas y Europa», incluye las siguientes sesiones temáticas: Management intercultural – Dinámicas internacionales – Finanzas y macroeconomía – Emprendimiento – Liderazgo y gobernanza – Administración de empresas familiares – Innovación social y sostenibilidad – Marketing y distribución responsables – Política y administración públicas en la era digital – Cadenas de valor globales y locales – Ecosistemas de innovación
Envío de resúmenes extendidos : 31 de enero de 2020
Aceptación de las comunicaciones : 15 de marzo de 2020
Las mejores comunicaciones serán objeto de publicaciónen International Management, revista indexada editada por HEC Montréal
Para enviar una comunicaciónhttps://easychair.org/cfp/CERALE_2020
Para más información: https://egade.csf.itesm.mx/sites/cerale

After the IdA-EULAC-CERALE 2016 Conference in Paris and CERALE-UniAndes 2018 in Cartagena de Indias, we are pleased to announce the CERALE-EGADE Business School 2020 Conference in Mexico City, on 27-29 May 2020.
Under the theme «New technological, managerial and social dynamics for a sustainable Europe-Americas relationship«, it will address 11 management topics: Intercultural Management – International Dynamics – Finance and Macroeconomics – Entrepreneurship – Leadership and Governance – Management of family-run businesses – Social innovation and sustainability – Conscious marketing and distribution – Public policy, public management and public services in the digital age – Global and local value chains – Ecosystems of innovation
Extended abstract to be sent by : January 31, 2020
Notification of acceptance: March 15,2020
Best communications wil be presented to International Management, the indexed journal published by HEC Montreal.
For paper submission:https://easychair.org/cfp/CERALE_2020
For more information: https://egade.csf.itesm.mx/sites/cerale
Après le Colloque IdA-EULAC-CERALE 2016 à Paris et CERALE-UniAndes 2018 à Carthagène des Indes, nous avons le plaisir d'annoncer le Colloque CERALE-EGADE Business School 2020 à Mexico, les 27 – 29 mai 2020.
Sous le thème «Nouvelles dynamiques technologiques, managériales et sociales, pour une relation Europe-Amériques durable», il comprend les sessions thématiques suivantes: Management interculturel – Dynamiques internationales – Finances et macroéconomie – Entrepreneuriat – Leadership et gouvernance – Management des entreprises familiales – Innovation sociale et durabilité – Marketing et distribution responsables – Politiques publiques et management public à l'heure du numérique – Chaînes de valeurs globales et locales – Écosystèmes d'innovation
Le colloque fait partie de la programmation Semaine de l'Amérique latine 2020
Envoi des résumés: 31 janvier 2020
Acceptation des communications: 15 mars 2020
Les meilleures communications feront l'objet d'une publication dans Management International, revue indexée éditée par HEC Montréal
Pour envoyer une communication https://easychair.org/cfp/CERALE_2020
Pour plus d'information: https://egade.csf.itesm.mx/sites/cerale